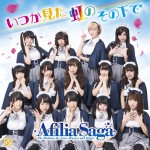 Afilia Saga's 16th single Itsuka Mita Niji no Sono Shita de (いつか見た虹のその下で) will be on sale on March 2nd.
It is the last single of the idol group featuring leader Louise Sforzur as she is going to graduate at the same period.
Afilia Saga new members Kaori Selene Gotland, Kana R Norwich and Yumi W Klein are making their first appearance.
The short version of the MV has been unveiled.
3 or 4 members are on the cover of each regular edition :
A : Yumi, Louise, Kohime
B : Alice, Miku, Kaori, Love
C : Kana, Yukafin, Momoko
D : Nana, Maho, Myuna, Moe
Furthermore, Ayami Chercy Snow and Louise Sforzur graduation live performances are going to be held successively on February 5th at Akasaka Blitz, and on March 11th at Zepp DiverCity Tokyo.
Tracklist
Type A / B

CD

Itsuka Mita Niji no Sono Shita de (いつか見た虹のその下で)
Kira Kira Radio (キラキラレディオ)
Itsuka Mita Niji no Sono Shita de (off vocal)
Kira Kira Radio (off vocal)
Type C / D

CD

Itsuka Mita Niji no Sono Shita de
Castaway ~Shinwa ga Umareru Yori Zutto Mae Kara~ (Castaway~神話が生まれるよりずっと前から~)
Itsuka Mita Niji no Sono Shita de (off vocal)
Castaway ~Shinwa ga Umareru Yori Zutto Mae Kara~ (off vocal)
Limited Edition

CD

Itsuka Mita Niji no Sono Shita de
Kira Kira Radio
Castaway ~Shinwa ga Umareru Yori Zutto Mae Kara~
Itsuka Mita Niji no Sono Shita de (off vocal)
Kira Kira Radio (off vocal)
Castaway ~Shinwa ga Umareru Yori Zutto Mae Kara~ (off vocal)

DVD

Itsuka Mita Niji no Sono Shita de (music clip)
Making-of
Music Video (PV)