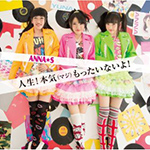 Anna☆S' 10th single Jinsei! Maji Mottainai yo! (人生!本気(マジ)もったいないよ!) will be released on May 6.
It is an electro rock song. The members of Anna☆S worked themselves on the lyrics.
The MV has been released.
3 editions are available.
The Type A edition comes with a bonus DVD featuring the music video and making-of footage. It includes both coupling tracks.
The Type B and C editions contain 2 songs and their instrumental versions.
Furthermore, Anna☆S are going to celebrate their 4th anniversary this year.
The idol group will hold a release event and a signing session on May 6 at Shibuya Public Hall in Tokyo.
Tracklist
Type A

CD

Jinsei! Maji Mottainai yo! (人生!本気もったいないよ!)
Ka.wa.i.i (カ・ワ☆イ・イ )
Keitai no Ura no Purikura no Piece! (ケイタイのウラのプリクラのピース! )

DVD

Jinsei! Maji Mottainai yo! (人生!本気もったいないよ!) (Music Video)
Jinsei! Maji Mottainai yo! (人生!本気もったいないよ!) (Making-of)
Type B

CD

Jinsei! Maji Mottainai yo! (人生!本気もったいないよ!)
Ka.wa.i.i (カ・ワ☆イ・イ )
Jinsei! Maji Mottainai yo! (人生!本気もったいないよ!) (Instrumental)
Ka.wa.i.i (カ・ワ☆イ・イ ) (Instrumental)
Type C

CD

Jinsei! Maji Mottainai yo! (人生!本気もったいないよ!)
Keitai no Ura no Purikura no Piece! (ケイタイのウラのプリクラのピース! )
Jinsei! Maji Mottainai yo! (人生!本気もったいないよ!) (Instrumental)
Keitai no Ura no Purikura no Piece! (ケイタイのウラのプリクラのピース! ) (Instrumental)
Music Video (PV)