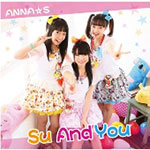 Anna☆S' new single Su and You will be released on May 15.
It is their 7th single. Only one edition is available. The CD includes 2 songs and their instrumental versions.
Check out the music video.
To celebrate this release, Anna☆S will hold a one-man live at Club Asia on May 17. Approximately 20 songs will be performed.
Tracklist
Su and You
Koi no Jiyuugata Kesshou (恋の自由形決勝)
Su and You (Instrumental)
Koi no Jiyuugata Kesshou (恋の自由形決勝) (Instrumental)
Music Video
Release Event
Date : 17/05/2013
Time : 19:00
Venue : Club Asia, Tokyo