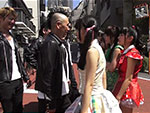 When a young idol group meets an old rock band on the streets of Tokyo, things do not always go well.
A video of a street fight between Aoyama Saint Hachamecha High School and Choshinjuku has been released.
Of course, the 6 members of the idol group hit and knock out their opponents.
This funny video is a teaser trailer to promote their joint live performance Mecha High no Jigoku no 10 Ban Shoubu (メチャハイ地獄の10番勝負) that will be held on May 18 at Kichijoji rock joint GB.
Furthermore, Aoyama Saint Hachamecha High School's 4th single Starting Over is on sale since March 11.