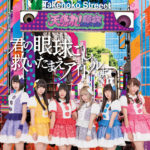 The new single from Appare! Harajuku will be released on September 20.
It will be entitled Kimi no Gankyugoshi Sukuitamae Idol yo (君の眼球越し救いたまえアイドルよ).
This is the 1st major label single by the idol group Appare! Harajuku.
This music video, which was directed by filmmaker Raita Kuramoto, shows the members of Appare! Harajuku running along the seashore in muted tones on a cloudy day.
The music is by Hashida Kazuma (Hakoniwa no Shitsunaigaku) and the lyrics are by Kobayashi Ai, a duet that has already worked with the band of new wave You'll Melt More!.
The disc will be released in 6 editions. The CD is identical for all editions.
Tracklist
CD

Kimi no Gankyugoshi Sukuitamae Idol yo (君の眼球越し救いたまえアイドルよ)
Endless Summer (エンドレスサマー)
Upperluja!! (Yunomi Remix) (アッパレルヤ!!)
Kimi no Gankyugoshi Sukuitamae Idol yo (Instrumental)
Endless Summer (Instrumental)
Music Video (PV)