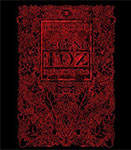 Babymetal Live ~Legend I, D, Z Apocalypse~ will be released on Blu-ray on November 20.
The Blu-ray includes the 3 concerts of Babymetal Legend "I" held in October 2012 at Shibuya O-East, Legend "D" in December 2012 at Akasaka Blitz, and Legend "Z" on February 2013 at Zepp Tokyo.
It also includes the original movie story Kitsune-sama no Mokujiroku (キツネ様の黙示録).
It comes with a booklet featuring photos of the live performances.
Check out the trailer.
Furthermore, Babymetal will participate in the famous radio program All Night Nippon (オールナイトニッポン) on October 7.
Legend I
Setlist

Babymetal Death
Iine! (いいね!)
Anata to Anime ga Mitai (君とアニメが見たい ~Answer for Animation with You)
Uki Uki Midnight (ウ・キ・ウ・キ★ミッドナイト)
Onedari Daisakusen (おねだり大作戦)
Akatsuki (紅月-アカツキ-)
Doki Doki Morning (ドキ・ド・キ☆モーニング)
– Encore –
Headbanger!! (ヘドバンギャー!!)
Ijime, Dame, Zettai (イジメ、ダメ、ゼッタイ)
Legend D
Setlist

Babymetal Death
Anata to Anime ga Mitai (君とアニメが見たい ~Answer for Animation with You)
Uki Uki Midnight (ウ・キ・ウ・キ★ミッドナイト)
White Love -Angel of Death Ver.-
Over the Future -Rising Force Ver.-
Headbanger!! (ヘドバンギャー!!) -Night of 15 Mix-
Onedari Daisakusen (おねだり大作戦)
Doki Doki Morning (ドキ・ド・キ☆モーニング)
Iine! (いいね!)
Ijime, Dame, Zettai (イジメ、ダメ、ゼッタイ)
– Encore –
Headbanger!! (ヘドバンギャー!!)
Tsubasa wo Kudasai -Honou Ver.- (翼をください -炎 ver.-)
Legend Z
Setlist

Ijime, Dame, Zettai (イジメ、ダメ、ゼッタイ)
Iine! (いいね!)
Anata to Anime ga Mitai (君とアニメが見たい ~Answer for Animation with You)
Onedari Daisakusen (おねだり大作戦)
Akatsuki (紅月-アカツキ-)
Uki Uki Midnight (ウ・キ・ウ・キ★ミッドナイト)
Catch Me if You Can
Doki Doki Morning (ドキ・ド・キ☆モーニング)
– Encore –
Headbanger!! (ヘドバンギャー!!)
Babymetal Death
Ijime, Dame, Zettai (イジメ、ダメ、ゼッタイ)
Trailer