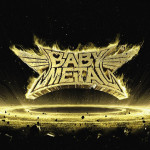 The new album of Babymetal entitled METAL RESISTANCE will be on sale on April 1st.
This is the 2nd album of the kawaii metal idol group.
The MV for Karate and The One, and the tracklist have been unveiled.
The "dark idols" didn't do things by half on this album. Several editions are available.
A vinyl version will also be on sale.
The CD of the regular and limited editions will contain 12 new titles including the digital single Road of Resistance.
Several special editions (The One, Overseas) will contain a different CD. The DVD and Blu-ray will include lives videos of the idol group in March, April and May 2015.
You can watch the video clip of the song KARATE below.
Furthermore, a new World Tour will be held this year.
Tracklist
CD

Road of Resistance
KARATE
Awadama Fever (あわだまフィーバー)
YAVA! (ヤバッ!)
Amore -Aoboshi- (Amore -蒼星-)
META! Meta Tarou (META!メタ太郎)
Syncopation (シンコペーション)
GJ!
Sis. Anger
NO RAIN, NO RAINBOW
Tales of The Destinies
THE ONE
CD ("The One")

Road of Resistance
KARATE
Awadama Fever (あわだまフィーバー)
YAVA! (ヤバッ!)
Amore -Aoboshi- (Amore -蒼星-)
META! Meta Tarou (META!メタ太郎)
Syncopation (シンコペーション)
GJ! -Go Houbi-hen- (GJ!- ご褒美編 -)
Sis. Anger
NO RAIN, NO RAINBOW
Tales of The Destinies
THE ONE -Unfinished ver.-
CD ("Overseas")

Road of Resistance
KARATE
Awadama Fever
YAVA!
Amore
Meta Taro
From Dusk Till Dawn
GJ!
Sis. Anger
No Rain, No Rainbow
Tales of The Destinies
THE ONE -English ver.-
DVD

TOKYO METROPOLITAN ROCK FESTIVAL 2015 (2015.5.24)

Megitsune (メギツネ)
Ii ne! (いいね!)
Catch me if you can
Headbanger!! (ヘドバンギャー!!)
Road of Resistance
Gimme Choko!! (ギミチョコ!!)
Ijime, Dame, Zettai (イジメ、ダメ、ゼッタイ)
Blu-ray

APOCRYPHA -THE BLACK MASS- (2015.4.23)

Road of Resistance
U・ki・U・ki★Midnight (ウ・キ・ウ・キ★ミッドナイト)
Awadama Fever (あわだまフィーバー)
Catch me if you can
Akumu no Rinbukyoku (悪夢の輪舞曲)
Onedari Daisakusen (おねだり大作戦)
Megitsune (メギツネ)
Ii ne! (いいね!)
Headbanger!! (ヘドバンギャー!!)
Ijime, Dame, Zettai (イジメ、ダメ、ゼッタイ)

APOCRYPHA -THE RED MASS- (2015.4.24)

Megitsune (メギツネ)
Do・Ki・Do・Ki☆MORNING (ド・キ・ド・キ☆モーニング)
Ii ne! (いいね!)
Benitsuki -Akatsuki- (紅月 -アカツキ-)
4 no Uta (4の歌)
Catch me if you can
Headbanger!! (ヘドバンギャー!!)
Ijime, Dame, Zettai (イジメ、ダメ、ゼッタイ)
Gimme Choko!! (ギミチョコ!!)
Road of Resistance
Music Video (PV)
Trailer