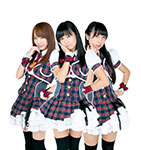 Bakusute Sotokanda Icchome will participate in Napoli Comicon and Katagames 2014 in Italy as guests.
It will be the first appearance of Bakusute Sotokanda Icchome overseas.
However, only 3 members of Bakusute Sotokanda Icchome will perform at these events in Italy : Hario Arisa, Horiuchi Kaori, Moroboshi Azuna.
Napoli Comicon 2014 is the 16th edition of the event. The festival is dedicated to comics, animation, video games and RPG. It will take place on May 1-4 at Mostra d'Oltremare in Naples.
Katagames 2014 will be held on April 26-27 at Catania in Sicily.
Bakusute Sotokanda Icchome made their major debut in May last year. The idol group reached the 1st rank on Oricon daily chart, and the 3rd position on weekly chart.