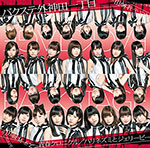 Bakusute Sotokanda Icchome's new single Seishun Chronicle / Harinezumi to Jelly Bee (青春クロニクル / ハリネズミとジェリービー) will be released on August 27.
This is the 4th major single from Bakusute Sotokanda Icchome. It is a double A-side.
The short version of the MV has been released.
The list of the Senbatsu members has been unveiled.
Type A : Hario Arisa, Hirosawa Mai, Asakura Yuri, Aoshima Karen, Sato Shiori, Yodama Rina, Hamaguchi Ranko, Hiromatsu Natsumi, Ichikawa Runa, Ishikawa Fujika, Fujii Runa
Type B : Hario Arisa, Hirosawa Mai, Asakura Yuri, Kameido Eri, Aikawa Ayano, Takamiya Mei, Horiuchi Kaori, Moroboshi Azuna, Asato Minami, Moeno Azuki, AD Nagisa
The first song was written by Maeyamada Kenichi (Hyadain). It is a summer tune.
It is the ending theme song for the variety show Bikkurakoita Bako (ビックラコイタ箱) airing on NTV.
The limited edition comes with a DVD with the music video and making-of footage, and a 24-page photo booklet.
It includes a bonus card to use at the Akihabara Backstage Pass maid café
Further details will be announced later.
The new songs were performed for the first time at Tsuntube♂ Presents! Choushi Bukkoku Matsuri 2014 Natsu ~Flying Shite Reko Hatsu! Higashimeihan Tour~ (つんつべ♂プレゼンツ!調子ブッコキ祭り2014夏 ~フライングしてレコ発!東名阪ツアー~) on June 21-22 at Shinjuku Blaze in Tokyo. Bakusute Sotokanda Icchome concert tour is produced by Tsunku♂.
Tracklist
Limited Edition

CD

Seishun Chronicle (青春クロニクル)
Harinezumi to Jelly Bee (ハリネズミとジェリービー)
??

DVD

Seishun Chronicle (青春クロニクル) (Music Video)
Making-of

24-page Photo Booklet
Type A

CD

Seishun Chronicle (青春クロニクル)
Harinezumi to Jelly Bee (ハリネズミとジェリービー)
Seishun Chronicle (青春クロニクル) (Instrumental)
Type B

CD

Seishun Chronicle (青春クロニクル)
Harinezumi to Jelly Bee (ハリネズミとジェリービー)
Harinezumi to Jelly Bee (ハリネズミとジェリービー) (Instrumental)
Music Video (PV)