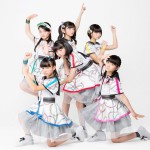 Batten Show Jo Tai's new single Osshoi! (おっしょい!) will be released on April 20th.
This is the major debut single of Batten Show Jo Tai under Victor Entertainment's label Colourful Records.
The MV and the new costumes of the members of the idol group have been unveiled.
The lyrics of the title song were written by Watanabe Shinobu (Asparagus). He has also composed and arranged the music.
It is a ska song using Hakata dialect. The idol unit is based in Fukuoka where this dialect comes from.
In addition, Batten Show Jo Tai are going to hold a series of live performances across Japan from March to April.
The girls will also participate in Momoiro Clover Z Dome Treck 2016 concert on March 26th at the Fukuoka Yahuoku Dome.
Tracklist
Minshai ver.

CD

Osshoi! (おっしょい!)
Shittocchan (知っとっちゃん)
Osshoi! (Instrumental)
Shittocchan (Instrumental)

DVD

Osshoi! (Music Video)
Dance Choreography
Recording & Making-of Document
Kikinshai ver.

CD

Osshoi!
Shittocchan
Sayonara Disteny (さよならDisteny)
Osshoi! (Instrumental)
Shittocchan (Instrumental)
Sayonara Disteny (Instrumental)
Hawks to Goissho ver.

CD

Osshoi!
Shittocchan
Izayuka Wakataka Gundan (いざゆけ若鷹軍団)
Osshoi! (Instrumental)
Shittocchan (Instrumental)
Izayuke Wakataka Gundan (Instrumental)
Music Video (PV)