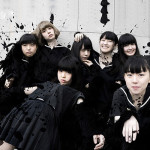 Bellring Girls Heart's new mini-album 13 Weeks Later EP will be on sale on June 24.
This is the first release of the idol group featuring its new line-up.
Moreover, Bellring Girls Heart are going to hold their first overseas live performance in Taiwan on August 16.
13 Weeks Later EP includes 6 songs.
The idol group chose to perform in Taiwan because it is the homeland of Tira who is on hiatus for several months.
Bellring Girls Heart concert 鐘鈴少女心 will take place at The Wall.
The tickets sale is opened for fan club members on their official site since June 5.
Tracklist
Thanatos to Masquerade (タナトスとマスカレード)
Muzai : Honeymoon (無罪:Honeymoon)
GIGABITE
Hinadori Escalation (雛鳥エスカレーション)
low tide
Tetsu no Machi (鉄の街)