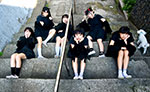 Bellring Girls Heart's new Single EPEP EP will be released on October 31th.
This is the 7th single from Bellring Girls Heart, also known as Bellring Shoujo Heart.
The CD contains 2 songs and their instrumental versions.
Only one edition is available.
Furthermore, Bellring Girls Heart will release their 2nd album Undo the Union on December 23rd.
The live tour Black Feather Collect Money Tour (黒い羽集金ツアー) will be held from December 26, 2014 to January 23, 2015. The concerts will take place in Sapporo, Sendai, Osaka and Tokyo.
Tracklist
rainy dance
Otokonoko, Onnanoko (男の子、女の子)
raindy dance (Instrumental)
Otokonoko, Onnanoko (Instrumental)