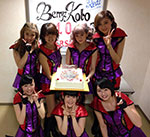 Berryz Kobo celebrated their 10th Anniversary on March 3.
To celebrate this event with their fans, the idol group from Hello! Project gave a concert at Tokyo Dome City Hall on that day.
A special website has been opened for Berryz Kobo's 10th Anniversary.
Captain Shimizu Saki told that she was proud and very happy.
In addition, Amazon Japan has discount prices on Berryz Kobo's albums available on MP3. Their 1st best-of album is on sale for 10 yens. The price for the other ones is 1000 yens.
Berryz Kobo's 1st single Anata Nashi de wa Ikite Yukenai (あなたなしでは生きてゆけない) was released on March 3, 2004.
Congratulations!