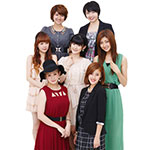 Berryz Kobo Tanabata Special Live 2013 (Berryz工房七夕スッペシャルライブ2013) will be released on DVD on November 20.
It includes the 23 songs performed by Berryz Kobo at the live.
The concert was held on July 7, 2013 at Yokohama Blitz.
The DVD includes bonus footage.
Furthermore, Berryz Kobo's 33rd single Motto Zutto Issho ni Itakatta / Rock Erotic (もっとずっと一緒に居たかった / Rockエロティック) is on sale since October 2.
Setlist
Opening
Succha ka Meccha ka (すっちゃかめっちゃか〜)
Yononaka Barairo (世の中薔薇色)
Jiriri Kiteru (ジリリ キテル)
Heroine ni Narou ka! (ヒロインになろうか!)
Sayonara Usotsuki no Watashi (サヨナラ ウソつきの私)
Golden Chinatown (ゴールデン チャイナタウン)
Genghis Khan (ジンギスカン)
Loving you Too much/ Berryz工房
Cha Cha Sing
Natsu Wakame (夏わかめ)
Maji Natsu Sugiru (マジ夏すぎる)
Natsu Remember You (夏 Remember you)
Maji Bomber!! (本気ボンバー!!)
Rival (ライバル)
Yuujou Junjou Oh Seishun (友情 純情 oh 青春)
Girls Times (ガールズタイムス)
Clap!
Tomodachi wa Tomodachi Nanda! (友達は友達なんだ!)
Maji Good Chance Summer (マジ グッドチャンス サマー)
Koi wa Hipparidako (恋はひっぱりだこ)
Yuke Yuke Monkey Dance (行け 行け モンキーダンス)
Asian Celebration (アジアン セレブレイション)
Be