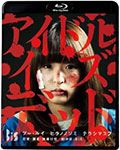 The action horror movie Idol Is Dead (アイドル・イズ・デッド) starring BiS will be released on on DVD and Blu-ray on January 8.
3 members of BiS are playing the main characters in the movie : Pour Lui, Hirano Nozomi and Terashima Yufu.
Check out the trailer.
Idol is Dead was directed by Kato Yukihiro.
The DVD and the Blu-ray include long interviews, audio commentary, trailer…
They come with a 12-page color booklet.
Trailer