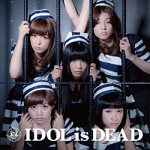 BiS' live DVD Idol Is Dead ~Repetition~ will be released on June 26.
The DVD includes the 26 songs performed during the live. The title of the event refers to BiS' latest album Idol Is Dead.
The concert was held on October 21, 2012, at Akasaka Blitz, Tokyo.
The DVD will come as a bonus item for the limited edition of BiS' upcoming single DiE which will go on sale on this date.
Setlist
primal.
Give me your Love Zenbu (全部)
nerve
My Ixxx
Chelsea
Idol Is Dead
Toufu (豆腐)
Paprika (パプリカ)
Elegant no Kaibutsu (エレガントの怪物)
Taiyou no Jumon (太陽のじゅもん)
Split Brain Syndrome (スプリットブレインシンドローム)
gugigi
I Wish I Was SpecIaL
One Day
Usagi Planet (ウサギプラネット)
Yell!!
Hokoushatengoku no Zattou de Sakendemitakattanda (歩行者天国の雑踏で叫んでみたかったんだ)
Eat It
PPCC
Idol
Reribi (レリビ)
– Encore –
Yah Yah Yah
survival dAnce
hitoribochi
Ash
– Double Encore –
primal.