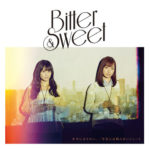 Bitter & Sweet will release their new single Shiawase ni Naritai. / Shashin ni wa Nokoranai Shoot (幸せになりたい。/写真には残らないシュート) on May 17.
This is the 1st major single of the idol group from Up-Front Works. It has a double A-side.
After releasing several indies singles, Tasaki Asahi and Hasegawa Moemi, the Bitter & Sweet members, make their major debut and recently signed under Piccolo Town label.
The single will be available on regular and limited editions.
The limited edition DVD will contain the video clips o the main songs.
The songs Shiawase ni Naritai. and Shashin ni wa Nokoranai Shoot were written by Kondo Hisashi. They were composed respectively by Kobayashi Shotaro and Hoshibe Shou.
The song Okurimono ni wa Ai ga Aru was written by Nobe and composed by Hoshibe Shou.
Tracklist
CD

Shiawase ni Naritai. (幸せになりたい)
Shashin ni wa Nokoranai Shoot (写真には残らないシュート)
Okurimono ni wa Ai ga Aru (贈り物には愛がある)
Shiawase ni Naritai. (Instrumental)
Shashin ni wa Nokoranai Shoot (Instrumental)
Okurimono ni wa Ai ga Aru (Instrumental)
DVD

Shiawase ni Naritai. (Music Video)
Shashin ni wa Nokoranai Shoot (Music Video)