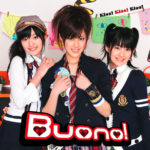 Kiss! Kiss! Kiss! is the 3rd single released by Buono! on May 14, 2008.
It was the 3rd ending theme for the anime Shugo Chara! (しゅごキャラ!).
36,675 copies were sold, and the single single of Buono! reached #4 on the Oricon weekly charts.
Also the total length of the songs is 15:53.
Track list
Kiss! Kiss! Kiss!
Minna Daisuki (みんなだいすき)
Kiss! Kiss! Kiss! (Instrumental)
Minna Daisuki (Instrumental)
Music Video (PV)
Featured Members
Tsugunaga Momoko
Natsuyaki Miyabi
Suzuki Airi