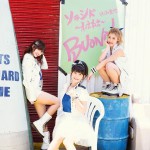 Hello! Project idol group Buono! will release its new single So La Si Do ~Nee Nee~ / Rock no Seichi (ソラシド〜ねえねえ〜/ロックの聖地) on September 21.
This DVD single marks the return of Buono! it's been four years that the group had not released discs.
It will be briefly on sale at Buono! Festa 2016 on August 25.
The MV was unveiled.
The song So La Si Do ~Nee Nee~ was written and composed by Tsuno Maisa.
The lyrics of Rock no Seichi was written by Hoshibe Shou. This an answer song of Rock no Kami-sama (ロックの神様), from the first album Café Buono!.
Watch the short version of So La Ti Do ~Nee Nee~ below.
Tracklist
DVD

So La Si Do ~Nee Nee~ (Music Video)
So La Si Do ~Nee Nee~ (Dance Shot Ver.)
Rock no Seichi (Recording Ver.)
CD

So La Si Do ~Nee Nee~ (ソラシド~ねえねえ~)
Rock no Seichi (ロックの聖地)
So La Si Do ~Nee Nee~ (Instrumental)
Rock no Seichi (Instrumental)
Music Video (PV)