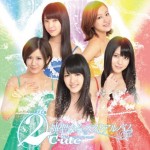 °C-ute's 2nd best-of album 2 °C-ute Shinsei Naru Best Album (② ℃-ute神聖なるベストアルバム) will be released on November 21.
The album contains 16 tracks including their latest singles and a new song titled Daisuki no Imi wo Oshiete! (「大好き」の意味を教えて!). It also includes self cover songs with new vocal and instrumental arrangements.
The limited editions come with a DVD featuring either music video collection plus Kanashiki Heaven (type A), or a documentary and an interview on the evolution of °C-ute from their debut (type B).
°C-ute – 2 °C-ute Shinsei Naru Best Album
CD

Massara Blue Jeans (まっさらブルージーンズ) (2012 Ver.)
Soku Dakishimete (即 抱きしめて) (2012 Ver.)
Ooki na Ai de Motenashite (大きな愛でもてなして) (2012 Ver.)
Wakkyanai (Z) (わっきゃない(Z)) (2012 Ver.)
Sakura Chirari (桜チラリ) (2012 Ver.)
Jump (2012 Ver.)
Tokaikko Junjou (都会っ子 純情) (2012 Ver.)
Lalala Shiawase no Uta (Lalala 幸せの歌) (2012 Ver.)
Namida no Iro (涙の色) (2012 Ver.)
Edo no Temari Uta II (江戸の手毬唄II) (2012 Ver.)
Seishun Song (青春ソング) (2012 Ver.)
Dance de Bacoon! (Danceでバコーン!)
Kiss Me Aishiteru (Kiss Me 愛してる)
Sekaiichi Happy na Onna no Ko (世界一Happyな女の子)
Kimi wa Jitensha Watashi wa Densha de Kitaku (君は自転車 私は電車で帰宅)
Daisuki no Imi wo Oshiete! (「大好き」の意味を教えて!)
DVD (Type A)

Music Video Collection
Kanashiki Heaven (悲しきヘブン) (Music Video)