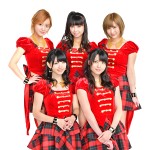 °C-ute's 21st single Crazy Kanzen na Otona (Crazy 完全な大人) will be released on April 3.
The CD contains 3 songs.
The limited editions A, B, C come with a bonus DVD featuring various versions of the music video (Type A, B, C), and a lottery ticket for handshake event.
The limited edition A includes solo and karaoke versions of Kanashiki Heaven (悲しきヘブン).
The limited editions D and E contain a different B-side track.
Regular Edition
CD

Crazy Kanzen na Otona (Crazy 完全な大人)
The Treasure Box (ザ☆トレジャーボックス)
Crazy Kanzen na Otona (Crazy 完全な大人) (Instrumental)
Limited Edition Type A
CD

Crazy Kanzen na Otona (Crazy 完全な大人)
The Treasure Box (ザ☆トレジャーボックス)
Crazy Kanzen na Otona (Crazy 完全な大人) (Instrumental)
DVD

Crazy Kanzen na Otona (Crazy 完全な大人) (Music Video)
Kanashiki Heaven (悲しきヘブン) (Suzuki Airi Part Ver.)
Kanashiki Heaven (悲しきヘブン) (Chisato Okai Part Ver.)
Kanashiki Heaven (悲しきヘブン) (Karaoke)
Limited Edition Type B
CD

Crazy Kanzen na Otona (Crazy 完全な大人)
The Treasure Box (ザ☆トレジャーボックス)
Crazy Kanzen na Otona (Crazy 完全な大人) (Instrumental)
DVD

Crazy Kanzen na Otona (Crazy 完全な大人) (Music Video)
Crazy Kanzen na Otona (Crazy 完全な大人) (Dance Commentary Video)
Crazy Kanzen na Otona (Crazy 完全な大人) (Dance Shot Ver.)
Limited Edition Type C
CD

Crazy Kanzen na Otona (Crazy 完全な大人)
The Treasure Box (ザ☆トレジャーボックス)
Crazy Kanzen na Otona (Crazy 完全な大人) (Instrumental)
DVD

Crazy Kanzen na Otona (Crazy 完全な大人) (Music Video)
Crazy Kanzen na Otona (Crazy 完全な大人) (Close-up Ver.)
Limited Edition Type D
CD

Crazy Kanzen na Otona (Crazy 完全な大人)
Chikyuu Kara no Sanjuusou (地球からの三重奏)
Crazy Kanzen na Otona (Crazy 完全な大人) (Instrumental)
Limited Edition Type E
CD

Crazy Kanzen na Otona (Crazy 完全な大人)
Watashi wa Tensai (私は天才)
Crazy Kanzen na Otona (Crazy 完全な大人) (Instrumental)
°C-ute – Crazy Kanzen na Otona (MV)