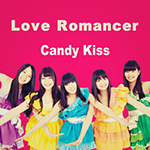 Candy Kiss' new single Love Romancer will be released on July 23.
This is the 4th single from Candy Kiss.
The idol group is going to celebrate its 2nd anniversary in August. Since their debut, the girls perform cute and pop dance tunes.
Love Romancer talks about love and teenage girls gradually growing up into adulthood. The lyrics are nostalgic.
The coupling track Mou Ichido… (もう一度・・・) is sung solo by Sakurai Maya. She is the leader of Candy Kiss.
Only one edition is available.
The CD includes 4 tracks including 2 remix of the lead song.
Tracklist
Love Romancer
Mou Ichido… (もう一度・・・) (Vocal Sakurai Maya ver.)
Love Romancer Strawberry Flaver Mix
Love Romancer Instrumental Mix