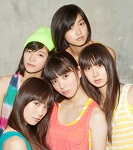 Dancing Dolls, Kondo Akihisa, Silent Siren, Joker, and more will perform at Oricon Sound Blowin' 10th Anniversary.
2 lives will be held simultaneously on December 8 at Shibuya-AX in Tokyo and at Matsushita IMP Hall in Osaka.
The event will be broadcasted on Ustream.
It is supported by NTT West "Tsunagaru Project".
Schedule
Date : 08/12/2012
Time : 15:00
Venue : Shibuya-AX, Tokyo
Line up :

Kondo Akihisa
Silent Siren
Joker
Dancing Dolls
Venue : Matsushita IMP Hall, Osaka
Line up :

Civilian Skunk
Matthews
Lily.µ