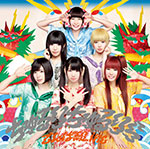 Dempagumi.inc's new single Chururi Chururira (ちゅるりちゅるりら) will be released on July 30.
This is the 11th single from Dempagumi.inc.
The MV for both songs have been unveiled.
Chururi Chururira is the CM song for Samurai cup noodles TV commercial featuring the members of the idol group and wota.
The music video for Lemon Iro (檸檬色) has super slow motion scenes.  It was directed by Bozo&YGQ. A device taking 1000 frames per second has been used.
3 editions are available. The track listing is the same for each one of them. The CD contains 2 songs and their instrumental versions.
The limited editions include a bonus DVD with a music video, an alternative version and making-of footage.
Furmermore, Dempagumi.inc Live DVD World Wide Dempa Tour 2014 in Nippon Budokan – Yume de Owaranyo! – (ワールドワイド☆でんぱツアー2014 in 日本武道館 ~夢で終わらんよっ!~) will also be on sale on on July 30.
Tracklist
CD

Chururi Chururira (ちゅるりちゅるりら)
Lemon Iro (檸檬色)
Chururi Chururira (ちゅるりちゅるりら) (Instrumental)
Lemon Iro (檸檬色) (Instrumental)
DVD (Type A)

Chururi Chururira (ちゅるりちゅるりら) (Music Video)
Making-of
Chururi Chururira (ちゅるりちゅるりら) (Dance Shot ver.)
DVD (Type B)

Lemon Iro (檸檬色) (Music Video)
Making-of
Lemon Iro (檸檬色) (Member Solo Shot)
Music Video (MV)
TV CM