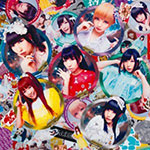 Dempagumi.inc's new single Denden Passion (でんでんぱっしょん) will be released on May 29.
The coupling songs are different for each version.
The limited edition Type A comes with a bonus DVD featuring music video, making-of footage, and original video content.
This limited edition Type B includes the theme songs for Ameba iOS game Sensei! Tsugi wa Battle no Jikan Desu (先生!次はバトルの時間です。) and a code to download a game item.
The limited editions Type C contain a different artwork for each member of Dempagumi.inc.
Regular Edition
CD

Denden Passion (でんでんぱっしょん)
Orange Rium
Denden Passion (でんでんぱっしょん) (Instrumental)
Orange Rium (Instrumental)
Limited Edition Type A
CD

Denden Passion (でんでんぱっしょん)
Orange Rium
Denden Passion (でんでんぱっしょん) (Instrumental)
Orange Rium (Instrumental)
DVD

Denden Passion (でんでんぱっしょん) (Music Video)
Denden Passion (でんでんぱっしょん) (Making of)
Original Video Content (オリジナルコンテンツ映像)
Limited Edition Type B (Game)
CD

Denden Passion (でんでんぱっしょん)
Sensei! Tsugi wa Battle no Jikan Desu (先生!次はバトルの時間です。)
Shoujo Android A (少女アンドロイドA)
Denden Passion (でんでんぱっしょん) (Instrumental)
Sensei! Tsugi wa Battle no Jikan Desu (先生!次はバトルの時間です。) (Instrumental)
Shoujo Android A (少女アンドロイドA) (Instrumental)
Limited Edition Type C (Aizawa Risa, Naruse Eimi, Fujisaki Ayane, Furukawa Mirin, Mogami Moga, Yumemi Nemu)
CD

Denden Passion (でんでんぱっしょん)
Denden Passion (でんでんぱっしょん) (Remix)
Denden Passion (でんでんぱっしょん) (Instrumental)
Music Video