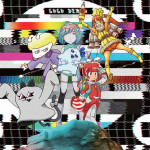 Dempagumi.inc's new album GOGO DEMPA will be on sale on April 27th.
The album contains 15 songs including Dempagumi.inc's latest singles and digital releases.
Check out the MV for Star☆t Shichauze Haru Dashi ne (STAR☆ットしちゃうぜ春だしね).
Takumi Shiga was in charge of the art direction. He worked in collaboration with famous illustrators Ai☆Madonna, Asano Inio, Ichasu, Saigo no Shudan, Taniguchi Natsuko and Yoko to make the covers. Each one drew a character.
GOGO DEMPA will be available on CD, vinyl LP, and cassette tape.
The limited edition comes with a bonus DVD featuring 7 music videos and audio commentaries by Dempagumi.inc members.
Tracklist
CD

GOGO DEMPA
Ha! to the Future (破!to the Future)
Fanfare wa Bokura no Tame ni (ファンファーレは僕らのために)
Wakusei Seika (惑星★聖歌 ~Planet Anthem~)
Star☆t Shichauze Haru Dashi ne (STAR☆ットしちゃうぜ春だしね)
AkihabaLife (アキハバライフ♪)
Otsukare Summer (おつかれサマー!)
Eikyuu Zombiena (永久ゾンビーナ)
Ensemble wa Tenohira ni (アンサンブルは手のひらに)
Kitto, Kitto ne (きっと、きっとね。)
Dem Dem X'mas
Munasawagi no Himitsu?! (ムなさわぎのヒみつ?!)
Kibou no Uta (キボウノウタ)
Yume Sasu Ashita e (ユメ射す明日へ)
Ashita Chikyuu ga Konagona ni Nattemo (あした地球がこなごなになっても)
DVD

Music Videos

Chouzetsu Ultra Happy Days (超絶ウルトラ☆Happy Days)
GidaGida da ZubaZuba da!! (ギダギダdaズバズバda!!)
Otsukare Summer!
Munasawagi no Himitsu?!
Ashita Chikyuu ga Konagona ni Nattemo
AkihabaLife
Star☆t Shichauze Haru Dashi ne

Live Movie
Music Video (PV)