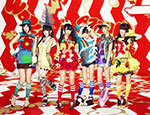 Dempagumi.inc is going to hold their first live performance at Nippon Budokan in Tokyo on May 6.
This announcement was made on January 5 during the concert World Wide Dempa Tour 2014 (ワールドワイド☆でんぱツアー2014). The members of Dempagumi.inc were surprised by this and thanked their fans.
During this live event, Furukawa Mirin performed the song Anone… Jitsu wa Watashi, Yumemi Nemu Nanda…♡ (あのね…実はわたし、夢眠ねむなんだ…♡) in solo. It is a cute and pop song written by Kyoshi Ryujin.
Moreover, Dempagumi.inc will release their new single Sakura Apparition (サクラあっぱれーしょん) on March 12.