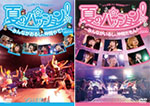 Dempagumi.inc will release their live DVD box set Natsu No Passion! Touzai Yaon Tour (夏のパッション! 東西野音ツアー) on December 18.
It includes the concerts held by Dempagumi.inc in Osaka on August 31, 2013 and in Hibiya on September 16, 2013.
Both live performances are also available separately.
The videos of Future Diver and Orange Rium, recorded at the concerts, have been posted on YouTube.
Yaon Tour Box Set
Dempagumi.inc Natsu no Passion! Minna ga Orushi. Nakama Yade! in Osaka-jo Yagai Ongakudo (Setlist)
W.W.D
Future Diver
Wahhoi? Omatsuri.inc (わっほい? お祭り.inc)
Kimi mo Zettaini Kousan Shinai de Susumanakucha! (君も絶対に降参しないで進まなくちゃ!)
Kuchizuke Kibonnu (くちづけキボンヌ)
Not Bocchi… Natsu (ノットボッチ・・・夏)
Kira Kira Tune (キラキラチューン)
Tsuyoi Kimochi Tsuyoi Ai (強い気持ち・強い愛)
Shoujo Android A (少女アンドロイドA)
W.W.D II
Demparade Japan (でんぱれーどJapan)
Orange Rium
Denden Passion (でんでんぱっしょん)
Dempagumi.inc Natsu no Passion! Minna ga Irushi. Nakama Damon! in Hibiya Yagai Ongakudo (Setlist)
Kira Kira Tune (キラキラチューン)
Demparade Japan (でんぱれーどJapan)
Denden Passion (でんでんぱっしょん)
Kuchizuke Kibonnu (くちづけキボンヌ)
Kiss+kiss de Owaranai (Kiss+kissでおわらない
Beam my Beam
Kimi mo Zettaini Kousan Shinai de Susumanakucha! (君も絶対に降参しないで進まなくちゃ!)
W.W.D
W.W.D II
Not Bocchi… Natsu (ノットボッチ・・・夏)
Wahhoi? Omatsuri.inc (わっほい? お祭り.inc)
Tsuyoi Kimochi Tsuyoi Ai (強い気持ち・強い愛)
Orange Rium
Future Diver
Video