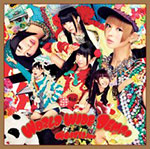 Dempagumi.inc's new album World Wide Dempa will be released on December 11.
This is the 2nd album from Dempagumi.inc. It contains 15 songs including the latest singles of the idol group.
The limited editions include either a bonus DVD or a Blu-ray featuring 8 music videos, audio commentary by the members, and footage of their live performances at summer festivals.
The deluxe edition comes with a travel set including an eye mask, a neck pillow, a blanket, slippers, and a tag.
In addition, a special website has been opened.
Furthermore, Dempagumi.inc 2014 National Tour (でんぱ組.inc 2014 全国ツアー) will be held from January 4 to March 22, 2014 across Japan.
Tracklist
CD

Hajimari ~World Wide Dempa~ (ハジマリ。〜Wolrd Wide Dempa〜
Demparade Japan (でんぱれーどJapan)
Future Diver
Vandalism
Sabotage
W.W.D
Nazokara (ナゾカラ)
Ikka, Haruka Kanata (イッカ、ハルカカナタ)
Kira Kira Tune (キラキラチューン)
Fuyu e to Hashiridasu o! (冬へと走りだすお!)
Nantettatte Shangri-la (なんてったってシャングリラ)
W.W.D II
Orange Rium
Tsuuoi Kimochi Tsuyoi Ai (強い気持ち・強い愛
Denden Passion (でんでんぱっしょん)
DVD / Blu-ray

Demparade Japan (でんぱれーどJapan)
Tsuyoi Kimochi Tsuyoi Ai (強い気持ち・強い愛)
Kira Kira Tune (キラキラチューン)
W.W.D
Fuyo e to Hashiridasu o! (冬へと走りだすお!
Denden Passion (でんでんぱっしょん)
Not Bocchi… Natsu (ノットボッチ…夏)
W.W.D II
Demparade Japan (でんぱれーどJapan) (2013.8.2 Rock in Japan Festival 2013)
Future Diver (2013.8.2 Rock in Japan Festival 2013)
Denden Passion (でんでんぱっしょん) (2013.8.11 Summer Sonic 2013)
Idol (2013.10.13 BiS×でんぱ組.inc ツーマンライブ)