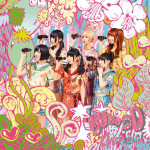 Dempagumi.inc's 3rd album WWDD will be released on February 18.
The CD contains 14 songs including Dempagumi.inc's latest singles.
The cover artwork and the new artist photo of the idol group have been unveiled.
The colorful design was made by Shiga Takumi who directed some music videos of Dempagumi.inc. Each member of the idol group has been assigned a monster character. The monsters and the jungle motif were drawn by cartoonist Taniguchi Natsuko.
The limited edition includes a bonus DVD featuring 7 music videos and 9 songs recorded at live performances.
Moreover, Dempagumi.inc concert tour WWD 大冒険 Tour 2015 will be held from February 25 to May 4.
Tracklist
CD

でんぱな世界 ~It's a dempa world~
Dempari Night (でんぱーりーナイト)
Dance Dance Dance (ダンス ダンス ダンス)
NEO JAPONISM
FD2 ~Raison d'Etre Daibouken~ (FD2 ~レゾンデートル大冒険~)
Chururi Chururira (ちゅるりちゅるりら)
Mamonaku, Dempagumi.inc ga Ririku Itashimasu (まもなく、でんぱ組.incが離陸致します♡)
Dear Stage e Yokoso (Dear☆Stageへようこそ♡)
Bari 3 Kyouwakoku (バリ3共和国)
Fancy Hope U Fu Fu (ファンシーほっぺ♡ウ・フ・フ)
Lemon Iro (檸檬色)
Brand new World (ブランニューワールド)
Irodori Sekai (イロドリセカイ)
Sakura Apparition (サクラあっぱれーしょん)
DVD

Music Video

Sakura Apparition
Fancy Hope U Fu Fu
Chururi Chururira
Lemon Iro
Dempari Night
Bari 3 Kyouwakoku
Phantom of the truth

Live Movie

VANDALISM
Den Den Passion [2014.8.9 Rock in Japan Festival 2014]
Mamonaku, Dempagumi.inc ga Ririku Itashimasu
Chururi Chururira
Sakura Apparition (サクラあっぱれーしょん)
Lemon Iro
W.W.D
Kira Kira Tune [2014.9.2 Cup Noodle presents Dempagumi.inc Special Live ~2014年ボクらは、 FUJIYAMAのある国で現代のSAMURAIと出会う!~]
Dempari Night [2014.11.14 Dempagumi.inc Special Concert 東アジア文化都市2014横浜 パートナー事業]