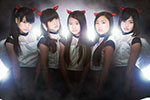 Devil Anthem is a Japanese idol group formed in December 2014.
They are also known as DeviAn (デビアン).
It currently consists of 5 members.
Biography / History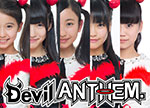 All the members of Devil Anthem are also aspiring models, actresses and talent.
The concept of the idol group is that the girls are 2-sided characters : angel and evil.
Their songs, their live performances and their costumes are inspired this concept. The red color of their costumes, the horns, and their intense performances on stage are the evil side. However, the girls look cute and innocent as angels.
Devil Anthem are produced by Imaki Sasa. She wrote and composed songs for many idol groups such as Shiritsu Ebisu Chuugaku…
In December 2014, the 5 original members were Kurumi, Satsuki, Lim, Nanoha and Ririka.
Lim announced her graduation in April 2015.
As a result, Ai joined the idol group as a new member at the end of the same month.
They signed under Tower Records' label Youthsource Records in June 2015.
Their debut single Devil Anthem ~Kimi no Heart wo Seifukuchuu~ (~キミのハートを征服中~) is going to be released in August 2015. All the songs were written and composed by Imaki Sasa who has worked with many other idol groups such as Shiritsu Ebisu Chuugaku…
Their 1st one-man live is going to be held in September 2015 at Shinjuku Ruido K4, Tokyo.
Profile
Devil Anthem (デビルアンセム)
Years active : 2014 – present
Label : Youthsource Records
Agency : Asia Promotion
Members
Ai
Satsuki
Kurumi
Nanoha
Ririka
Former Members
Discography
Singles
04/08/2015 : Devil Anthem ~Kimi no Heart wo Seifukuchuu~ (Devil Anthem ~キミのハートを征服中~)
Albums
Links
News