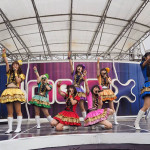 FES☆TIVE, who released their first album Wasshoi Record on July 27, have begun skyrocketing. A matsuri-themed idol group, they rose to stardom via YouTube, receiving offers to perform at Japan Festivals in Indonesia, Thailand and Hong Kong. They appeared on popular SCTV program, Inbox, and as the main act of The University of Indonesia's Japan Fest, Gelar Jepang UI 22.
The idol group was featured Inbox on August 19 at 8 am local time. To the live audience's great enthusiasm, FES☆TIVE participated in the talk show segment via an interpreter, performed a cover of Gangnam Style and a traditional Indonesian dance, concluding with a live performance of Go Zipang (Susume Zipangu), the third single off of their March 16 release.
Japanese artists have performed on Indonesia's popular music program Dahsyat (RCTI), but FES☆TIVE is the first to perform on Dahsyat's unparalleled "twin jewel", Inbox, an unexpected feat for the group's first show in the country. Sure to become a household name overnight, FES☆TIVE performed on August 20 for a crowd of 5,000 as Gelar Jepang UI 22's main act (75 minutes) at Parkir Timur Senayan.
Upon returning to Japan, FES☆TIVE will also perform a spin-off solo show in Nagoya on September 4. Their successes will surely continue, both in Indonesia, and within Japan.