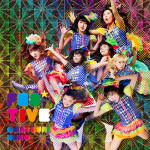 Fes☆tive's new single Omatsuri Hero (お祭りヒーロー) will be released on May 13.
It is the major debut single of Fes☆tive. Indeed, the idol group signed under the label Tokuma Japan Communications in early 2015.
The MV has been unveiled.
It is a cheerful song mixing energetic and traditional Japanese music.
The video was filmed at a shrine. The girls wear various costumes including yukata. They perform a dynamic and festive dance number.
The coupling songs haven't been revealed yet.
Only one edition of the CD is available.
Tracklist
Omatsuri Hero (お祭りヒーロー)
??
??
Music Video (PV)