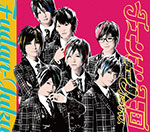 Fudanjuku's new single Chenmen Tengoku (チェンメン天国) will be released on January 22.
3 versions are available. The limited editions come with a bonus DVD featuring either the PV or making-of footage.
The music video has been released.
The songs were written by Hanawa and arranged by Narita Shinobu.
Moreover, Fudanjuku will hold events and mini-live performances in Tokyo, Nagoya and Kawasaki from January 21 to 26.
Regular Edition
CD

Chenmen Tengoku (チェンメン天国)
Taiyou Mitaina Kimi ga Suki (太陽みたいなキミが好き)
Kizudarake no Receiver (傷だらけのレシーバー)
Chenmen Tengoku (チェンメン天国) (Instrumental)
Taiyou Mitaina Kimi ga Suki (太陽みたいなキミが好き) (Instrumental)
Kizudarake no Receiver (傷だらけのレシーバー) (Instrumental)
Type A
CD

Chenmen Tengoku (チェンメン天国)
Taiyou Mitaina Kimi ga Suki (太陽みたいなキミが好き)
DVD

Chenmen Tengoku (チェンメン天国) (Music Video)
Type B
CD

Chenmen Tengoku (チェンメン天国)
Taiyou Mitaina Kimi ga Suki (太陽みたいなキミが好き)
DVD

Chenmen Tengoku (チェンメン天国) (Making-of)
Music Video (PV)