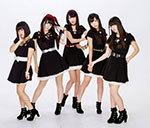 GALETTe's 2nd single Jajauma to Yobanaide / Candy Pop (じゃじゃ馬と呼ばないで / Candy Pop) will be released on February 12.
This is a double A-side single from GALETTe.
Former HKT48 member Komori Yui is making her first appearance with GALETTe on this single.
The MV has been released.
It will be the ending theme song for the variety shows Night Shuffle (ナイトシャッフル) on Fukuoka Broadcasting System (福岡放送) and Joshista (ジョシスタ) on Sapporo TV (札幌テレビ).
The CD contains 2 songs and their instrumental versions. 3 editions are available.
The Type A includes a bonus DVD featuring the music video.
The Types B and C come with a photo of one of the 2 songs randomly selected.
Tracklist
CD

Jajauma to Yobanaide (じゃじゃ馬と呼ばないで)
Candy Pop
Jajauma to Yobanaide (じゃじゃ馬と呼ばないで) (Instrumental)
Candy Pop (Instrumental)
DVD (Type A)

Jajauma to Yobanaide (じゃじゃ馬と呼ばないで) (Music Video)
Music Video (PV)