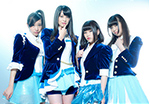 GALETTe's new single She Is Wannabe! will be released on October 22.
It is the 4th single from GALETTe.
The short version of the MV has been released.
The idol group performs disco and funk tunes. The lead song is more aggressive.
The lyrics of all songs were written by Yamada Sumiko. The music was composed and arranged by Chikuda Hiroshi who had already worked with GALETTe on their previous releases.
6 editions are available.
Tracklist
Type A

CD

She Is Wannabe!
Natural Sweet na Kuuki (ナチュラルスウィートな空気)
Type B

CD

She Is Wannabe!
Dress Code wa G.L.T (ドレスコードはG.L.T)
Type C

CD

She Is Wannabe!
Beautiful Love World!
Type D

CD

She Is Wannabe!
Natural Sweet na Kuuki (ナチュラルスウィートな空気)

DVD

She Is Wannabe! (Music Video)
Type E

CD

She Is Wannabe!
Dress Code wa G.L.T (ドレスコードはG.L.T)

DVD

She Is Wannabe! (Music Video)
Type F

CD

She Is Wannabe!
Beautiful Love World!

DVD

She Is Wannabe! (Music Video)
Music Video (PV)