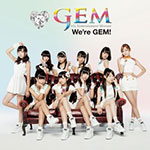 GEM's new single We're GEM! will be released on January 1.
This is their major debut single under the label iDOL Street.
We're GEM! is described as a fresh and catchy song. The music video has been released.
The regular edition includes the coupling song Pan-Paka-Pan! performed by GEM. It is the opening theme song for the anime Hanakappa (はなかっぱ) broadcast on NHK Eテレ.
The limited edition comes with a DVD featuring the music video and bonus footage.
Regular Edition
CD

We're GEM!
BFF
Pan-Paka-Pan! (Song by GEM)
Limited Edition
DVD

We're GEM! (Music Video)
Off Shot Movie
Music Video (PV)