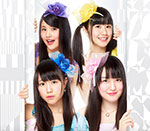 Grazie (グラッチェ) is a Japanese idol group formed in 2013.
It currently consists of 4 members. Each one of them has been assigned a color.
The idol unit is based in Tokyo.
Its name comes from the Italian word "grazie" meaning "thank you".
The girls perform a mix of various music styles including j-pop, funk, dance, rock, jazz…
The producer is Narita Naohito. He is also a songwriter.
Grazie held their 1st live performance in January 2013 at Shinjuku Red Nose in Tokyo.
Their 1st single Futsuu no Uta (ふつうのうた) was released in March 2014.
Profile
Grazie (グラッチェ)
Years active : 2013 – present
Label : –
Agency : –
Members
Sakuragi Mika (桜木美香) – Purple
Nakano Haruka (中野陽日) – Pink
Furuya Sayaka (古谷爽香) – Aqua Blue
Nojima Tomoka (野島朋華) – Yellow
Discography
Singles
26/03/2014 : Futsuu no Uta (ふつうのうた)
16/06/2014 : Chutto Kiss (チュットキッス)
Albums
Links
News