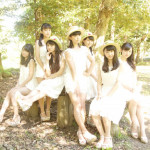 Hakoiri Musume (ハコイリ♡ムスメ) is a Japanese idol group formed in 2014.
They are also known as Hako Musu (ハコムス).
It currently consists of 8 members.
Biography / History
The concept of the idol group is that all the members are aspiring actresses.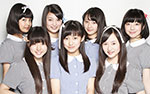 Their producer is Akiba Cultures Theater (Akibaカルチャーズ劇場) manager Suzuki Misano.
Mikity Honmono (Nichohalo) is in charge of the choreography.
Hakoiri Musume debuted in July 2014 at Akiba Culures Theater. As rookies, they were holding live performances every Wednesday at this period.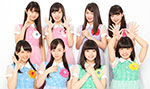 Hakoiri Musume no Hakobeya (ハコイリ♡ムスメのハコベヤ) is broadcast on Showroom since September 2014.
Komatsu Moka has been appointed leader in October 2014.
Abe Karen joined the idol group as a 2nd generation member in April 2015.
The girls host the TV variety show Hakoiri Musume no Hako Kara Dete mo Ii Desu ka? (ハコイリ♡ムスメのハコから出てもいいですか?) on Pigoo since April 2015.
The music video for their 1st original song Hohoemi to Haru no One Piece (微笑みと春のワンピース) was funded via a crowdfunding campaign in June 2015. The goal was to collect 800,000 Yen in order to produce the MV. At the end of the campaign, a total amount of 1,500,000 Yen were pledged.
In July 2015, Tetsudo Mio became the new leader, and Komatsu Moka the performance leader.
Kadomae Ari announced her graduation in July 2015.
Profile
Hakoiri Musume (ハコイリ♡ムスメ)
Years active : 2014 – present
Label : –
Agency :Box Corporation
Members
Komatsu Moka (小松もか)
Uchiyama Tamaki (内山珠希)
Abe Karen (阿部かれん)
Tetsudo Mio (鉄戸美桜)
Suganuma Monika (菅沼もにか)
Kamioka Miki (神岡実希)
Wagatsuma Momomi (我妻桃実)
Former Members
Discography
Singles
06/2015 : Hohoemi to Haru no One Piece (微笑みと春のワンピース)
Albums
Links
News