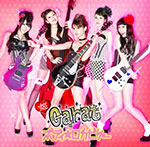 Hime Carat's new single Body Rockabilly (ボディ・ロカビリー) will be released on November 27.
It is the 2nd single from Hime Carat.
The MV has been released.
The limited editions Type A and B include a DVD featuring the music video, the making-of, or live footage.
The Type C comes with a 24-page photo booklet.
The regular edition includes a bonus track.
Regular Edition
CD

Body Rockabilly (ボディ・ロカビリー)
Kurobuchi Megane to Babydoll (クロブチメガネとベビードール)
Body Rockabilly ~Dance Mix~
Body Rockabilly (ボディ・ロカビリー) (Instrumental)
Kurobuchi Megane to Babydoll (クロブチメガネとベビードール) (Instrumental)
Body Rockabilly ~Dance Mix~ (Instrumental)
Limited Edition Type A / B / C
CD

Body Rockabilly (ボディ・ロカビリー)
Kurobuchi Megane to Babydoll (クロブチメガネとベビードール)
Body Rockabilly (ボディ・ロカビリー) (Instrumental)
Kurobuchi Megane to Babydoll (クロブチメガネとベビードール) (Instrumental)
DVD (Type A)

Body Rockabilly (ボディ・ロカビリー) (Music Video)
Body Rockabilly (ボディ・ロカビリー) (Making-of)
DVD (Type B)

Hime Carat 1st Live 51% of Distance to a Castle (姫carat 1st ワンマンLive 51% of distance to a castle 〜おとぎの国へよこそ〜 Shibuya Milkyway in September, 14,2013 ダイジェスト映像)
24-page photo booklet (Type C)
Music Video (PV)