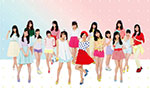 HKT48's 5th single 12 Byou (12秒) will be released on April 22.
The list of the names of the 16 Senbatsu members has been revealed. The centers are Kodama Haruka and Miyawaki Sakura.
The music video has been unveiled.
The theme of this single is first kiss.
The Senbatsu members are Anai Chihiro, Ueki Nao, Ota Aika, Kimoto Kanon, Kojina Yui, Kodama Haruka, Sashihara Rino, Tashima Meru, Tanaka Miku, Tomonaga Mio, Matsuoka Natsumi, Miyawaki Sakura, Murashige Anna, Motomura Aoi, Moriyasu Madoka, Yabuki Nako.
Popcorn Children (ポップコーンチルドレン) sub-unit consists of HKT48 3rd generation members.
4 versions of the CD will be on sale. They come with a DVD featuring music videos and bonus footage.
The limited editions include a ticket for a handshake event with HKT48 members that will be held in Kyushu or Kanto area.
Tracklist
Type A

CD

12 Byou (12秒)
Rock Da yo, Jinsei wa… (ロックだよ、人生は…)
Hohoemi Popcorn (微笑みポップコーン) / Popcorn Children (ポップコーンチルドレン)
12 Byou (Instrumental)
Rock Da yo, Jinsei wa… (Instrumental)
Hohoemi Popcorn (Instrumental)

DVD

12 Byou (Music Video)
Rock Da yo, Jinsei wa… (Music Video)
Hohoemi Popcorn (Music Video)
HKT's Kitchen A
Type B

CD

12 Byou (12秒)
Rock Da yo, Jinsei wa… (ロックだよ、人生は…)
Chameleon Joshikousei (カメレオン女子高生) / HKT48 Team H
12 Byou (Instrumental)
Rock Da yo, Jinsei wa… (Instrumental)
Chameleon Joshikousei (Instrumental)

DVD

12 Byou (Music Video)
Chameleon Joshikosei (Music Video)
HKT's Kitchen B
Type C

CD

12 Byou (12秒)
Rock Da yo, Jinsei wa… (ロックだよ、人生は…)
Hawaii e Ikou (ハワイへ行こう) / HKT48 Team IV
12 Byou (Instrumental)
Rock Da yo, Jinsei wa… (Instrumental)
Hawaii e Ikou (Instrumental)

DVD

12 Byou (Music Video)
Hawaii e Ikou (Music Video)
HKT's Kitchen C
Theater Edition

CD

12 Byou (12秒)
Rock Da yo, Jinsei wa… (ロックだよ、人生は…)
Daite Twintail (抱いてツインテール) / Blueberry Pie (ブルーベリーパイ)
12 Byou (Instrumental)
Rock Da yo, Jinsei wa… (Instrumental)
Daite Twintail (Instrumental)
Music Video (PV)