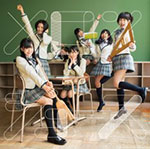 HKT48's 2nd single Melon Juice (メロンジュース) will be released on September 4.
Melon Juice is described as a punk rock song.
4 editions are available. Each one of them contains 3 songs and their instrumental versions.
The regular editions include a DVD with 2 music videos and a bonus footage featuring various members of HKT48 depending on the type of the single.
Type A
CD

Melon Juice (メロンジュース)
Soko de Nani wo Kangaeru ka? (そこで何を考えるか?)
Kibou no Kairyuu (希望の海流) (Amakuchi Hime)
Melon Juice (メロンジュース) (Instrumental)
Soko de Nani wo Kangaeru ka? (そこで何を考えるか?) (Instrumental)
Kibou no Kairyuu (希望の海流) (Amakuchi Hime) (Instrumental)
DVD

Melon Juice (メロンジュース) (Music Video)
Kibou no Kairyuu (希望の海流) (Amakuchi Hime) (Music Video)
Natsuyasumi Jiyu Kenkyuu Happyou (特典映像「夏休み自由研究発表」) (Part 1)
Type B
CD

Melon Juice (メロンジュース)
Soko de Nani wo Kangaeru ka? (そこで何を考えるか?)
Doro no Metronome (泥のメトロノーム) (Umakuchi Hime)
Melon Juice (メロンジュース) (Instrumental)
Soko de Nani wo Kangaeru ka? (そこで何を考えるか?) (Instrumental)
Doro no Metronome (泥のメトロノーム) (Umakuchi Hime) (Instrumental)
DVD

Melon Juice (メロンジュース) (Music Video)
Doro no Metronome (泥のメトロノーム) (Umakuchi Hime) (Music Video)
Natsuyasumi Jiyu Kenkyuu Happyou (特典映像「夏休み自由研究発表」) (Part 2)
Type C
CD

Melon Juice (メロンジュース)
Soko de Nani wo Kangaeru ka? (そこで何を考えるか?)
Namioto no Orugoru (波音のオルゴール)
Melon Juice (メロンジュース) (Instrumental)
Soko de Nani wo Kangaeru ka? (そこで何を考えるか?) (Instrumental)
Namioto no Orugoru (波音のオルゴール) (Instrumental)
DVD

Melon Juice (メロンジュース) (Music Video)
Melon Juice (メロンジュース) (Making of)
Natsuyasumi Jiyu Kenkyuu Happyou (特典映像「夏休み自由研究発表」) (Part 3)
Theater Edition
CD

Melon Juice (メロンジュース)
Soko de Nani wo Kangaeru ka? (そこで何を考えるか?)
Tenmonbu no Jijou (天文部の事情)
Melon Juice (メロンジュース) (Instrumental)
Soko de Nani wo Kangaeru ka? (そこで何を考えるか?) (Instrumental)
Tenmonbu no Jijou (天文部の事情) (Instrumental)
Music Video (PV)