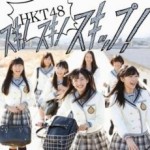 HKT48's debut single Suki! Suki! Skip! (スキ!スキ!スキップ!) will be released on March 20.
This is the 1st single from HKT48. It marks their major debut under Universal Music.
The MV has been released.
3 editions are available. The coupling track is different for each one of them.
It comes with a bonus DVD featuring the music video and special footage.
Tracklist
Type A

CD

Suki! Suki! Skip! (スキ!スキ!スキップ!)
Onegai Valentine (お願いヴァレンティヌ)
Kataomoi no Karaage (片思いの唐揚げ) (Amakuchi Hime)
Suki! Suki! Skip! (スキ!スキ!スキップ!) (Instrumental)
Onegai Valentine (お願いヴァレンティヌ) (Instrumental)
Kataomoi no Karaage (片思いの唐揚げ) (Amakuchi Hime) (Instrumental)

DVD

Suki! Suki! Skip! (スキ!スキ!スキップ!) (Music Video)
Kataomoi no Karaage (片思いの唐揚げ) (Amakuchi Hime) (Music Video)
Tokyo Excursion (東京修学旅行)
Type B

CD

Suki! Suki! Skip! (スキ!スキ!スキップ!)
Onegai Valentine (お願いヴァレンティヌ)
Ima ga Ichiban (今がイチバン) (Umakuchi Hime)
Suki! Suki! Skip! (スキ!スキ!スキップ!) (Instrumental)
Onegai Valentine (お願いヴァレンティヌ) (Instrumental)
Ima ga Ichiban (今がイチバン) (Umakuchi Hime) (Instrumental)

DVD

Suki! Suki! Skip! (スキ!スキ!スキップ!) (Music Video)
Ima ga Ichiban (今がイチバン) (Umakuchi Hime) (Music Video)
Hakata Tourist Information (博多観光案内)
Type C

CD

Suki! Suki! Skip! (スキ!スキ!スキップ!)
Onegai Valentine (お願いヴァレンティヌ)
Seifuku no Bambi (制服のバンビ)
Suki! Suki! Skip! (スキ!スキ!スキップ!) (Instrumental)
Onegai Valentine (お願いヴァレンティヌ) (Instrumental)
Seifuku no Bambi (制服のバンビ) (Instrumental)

DVD

Suki! Suki! Skip! (スキ!スキ!スキップ!) (Music Video)
All Members Joke Collection (メンバー全員一発ギャグ集)
Music Video (PV)