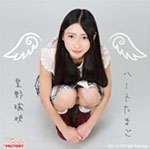 Hoshino Mizuha's new single Heart Tamago (ハートたまご) will be released on October 14.
This is the 3rd single from Hoshino Mizuha. 3 editions are available.
The CD will be on sale at the live event Finolia Factory Holiday Special Vol.64 which will be held on October 14 at Ikebukuro Dot in Tokyo.
Hoshino Mizuha is a member of Choice?.
Sample