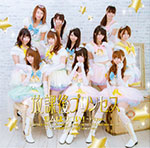 Houkago Princess will release their new single Samu wa Fuyui! (サムはフユい!) on November 27.
4 editions are available. The CDs contain 3 songs and their instrumental versions. The coupling track is different for each one of them.
This single includes new versions of the songs Uchuu Ichi no Christmas (宇宙一のクリスマス) and Daisuki (大好き).
The music video has been revealed.
Type A
Atsu wa Natsu i! (アツはナツい!) (Single Version)
Uchuu Ichi no Christmas (宇宙一のクリスマス) (2013-2014 Version)
Watashi no Migite Anata no Hidarite ~Gyutte Shitai~ (私の右手 あなたの左手 ~ぎゅってしたい~)
Atsu wa Natsu i! (アツはナツい!) (Instrumental)
Uchuu Ichi no Christmas (宇宙一のクリスマス) (Instrumental)
Watashi no Migite Anata no Hidarite ~Gyutte Shitai~ (私の右手 あなたの左手 ~ぎゅってしたい~) (Instrumental)
Type B
Atsu wa Natsu i! (アツはナツい!) (Single Version)
Uchuu Ichi no Christmas (宇宙一のクリスマス) (2013-2014 Version)
Daisuki (大好き) (Winter Version)
Atsu wa Natsu i! (アツはナツい!) (Instrumental)
Uchuu Ichi no Christmas (宇宙一のクリスマス) (Instrumental)
Daisuki (大好き) (Instrumental)
Type C
Atsu wa Natsu i! (アツはナツい!) (Single Version)
Uchuu Ichi no Christmas (宇宙一のクリスマス) (2013-2014 Version)
Auau→Kyururun (あうあう→きゅるるん)
Atsu wa Natsu i! (アツはナツい!) (Instrumental)
Uchuu Ichi no Christmas (宇宙一のクリスマス) (Instrumental)
Auau→Kyururun (あうあう→きゅるるん) (Instrumental)
Type D
Atsu wa Natsu i! (アツはナツい!) (Single Version)
Uchuu Ichi no Christmas (宇宙一のクリスマス) (2013-2014 Version)
Ito 4 Kute Balloon (いと4くて Balloon)
Atsu wa Natsu i! (アツはナツい!) (Instrumental)
Uchuu Ichi no Christmas (宇宙一のクリスマス) (Instrumental)
Ito 4 Kute Balloon (いと4くて Balloon) (Instrumental)
Music Video (PV)