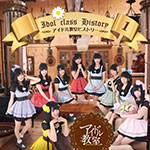 Idol Class History 2 (アイドル教室ヒストリー2) will be released on April 2.
This is the 2nd greatest hits album from Idol Class, also known as Idol Kyoshitsu.
In addition, Idol Class History 1 (アイドル教室ヒストリー1) is available since March 5.
Each CD contains 14 or 13 songs.
Furthermore, Idol Class 4th single Setsunasa Rendez-Vous (切なさランデブー) is on sale since February 14.
Tracklist
Vol. 1

Makeruna Dreamer (負けるなドリーマー)
Doki Doki Shichau (ドキドキしちゃう)
Kokoro no Prism (心のプリズム)
Kodou (鼓動)
Happy Birthday no Uta (ハッピーバースデーの唄)
Baby Love (ベイビーラブ)
Arigatou wo Todoketai (ありがとうを届けたい)
Ai no Potato Chips (愛のポテトチップス)
Yabapyon (やばぴょん)
We can lets go
Kanashimi Kienaide (悲しみ消えないで)
Namida no Potato Chips (涙のポテトチップス)
Itsudemo Kimi ga Suki (いつでも君が好き)
Parfait Tic na Koi Shitai (パフェチックな恋したい)
Vol. 2

Yume e no Tobira (夢への扉)
Still
Chiisana Negai (小さな願い)
Hikari (光)
Anata ga Oshietekureta (あなたが教えてくれた)
Kimi Dake no Asaki (君だけのあさき)
Itadaki Manmosu Lucky You (いただきマンモスらっきーうー)
Ima Hajimaru Story (今はじまるストーリー)
Ai Kyou Tantei no Theme (アイ教探偵のテーマ)
Hyakunen Hanabi (百年花火)
Boku wa Kimi ni Koi wo Shita (僕は君に恋をした)
Chiisana koto nado Ki ni Shinai (小さなことなど気にしない)
Subliminal Love (サブリミナルラブ)