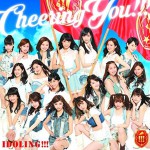 The new single of Idoling!!! Cheering You!!! will be on sale on July 15.
This is probably the last single of Idoling!!! since the group annonced in February its break up for October.
The music video and the tracklists have been unveiled.
The single will be available in several versions : 1 regular and 2 limited A and B. The CD is different depending on the edition. The limited editions will contains a DVD or a Blu-ray depending on the version.
Furthermore, 3 new members joined Idoling!!! in June as 7th generation of the idol group.
Tracklist
Regular Edition

Cheering You!!!
Over Drive (1st IDOLING!!!)
Cheering You!!! (Instrumental)
Over Drive (Instrumental)
Limited Edition A CD

Cheering You!!!
Over Drive (1st IDOLING!!!)
Ikimasshou Wasshoi (いきまっしょ ワッショイ) (U-18ing!!!)
Limited Edition B CD

Cheering You!!!
Over Drive (1st IDOLING!!!)
Tokkyuu Girl (特急ガール) (O-19ing!!!)>
DVD / Blu-ray

Cheering You!!! (Music Video)
Cheering You!!! (MV Making)
Music Video (PV)