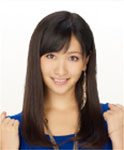 Yokoyama Rurika will make her solo debut in June. She is the first member of Idoling!!! to release a solo single.
The announcement was made during the live Idoling!!! Nishi e! Higashi e!! Mystery Tour ng!!! 2013 (アイドリング!!! 西へ! 東へ!! ミステリィツアーング!!! 2013) at Zepp Tokyo on April 13.
Moreover, Idoling!!! are going to hold auditions to recruit the new members of the 6th generation. Applications are open until May 31. The candidates must be at least in the 1st year of middle school and under the age of 20.