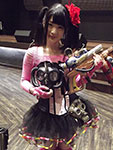 Steamgirls (スチームガールズ) is a Japanese idol group formed in 2012.
Steamgirls is part of Alice Project (アリスプロジェクト). Along with their sister unit Alice Juban (アリス十番), they are one of the most popular underground idol groups in Akihabara.
Check out our interview with Kamiya Erina (神谷えりな) from Steamgirls.
Could you introduce yourself ?
My name is Kamiya Erina. I am a member of Steamgirls. I am a G-cup idol.
What is the concept of Steamgirls ?
Steamgirls is an idol group whose theme is steampunk.
Could you say a few words about your latest single Kamen Joshi (仮面女子) ?
Kamen Joshi is a collaboration single between Steamgirls and Alice Juban. We are performing the song High and Low on this single. It is an electronic dance music song.
You hold live performances everyday at P.A.R.M.S. Theater in Akihabara. What do you think about this place ?
Akihabara is a place where there are many people interested in idols. Therefore I am glad to sing in this theater. Furthermore it is 3 minutes walk from Akihabara station.
There is a great atmosphere during your live performances. What do you feel about the support from the audience ?
The support from the fans gives me a strong power. It is a very important thing for me.
On stage, you are wearing original costumes and using some accessories. Could you describe them ?
We wear a colorful costume. We also have a gas mask and a steam gun with a laser pointer.
Do you have other activities ?
I am also a gravure idol and a model for magazines.
Do you have a message for your fans ?
I think that idol culture is a movement that only exists in Japan. However I would like to transmit a message to the fans from overseas through the music.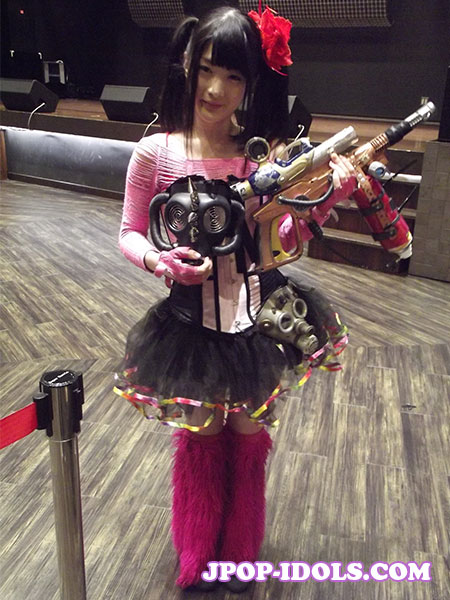 Thanks to Kamiya Erina and the staff of Alice Project.
Related articles :