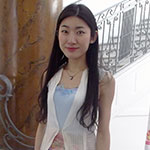 Mayuko is a Japanese multi-talented artist. She is a singer, a songwriter and a painter.
We had the opportunity to meet her at Japan Expo Sud 2015 in Marseille, France, in February.
Check out our interview with Mayuko and some pictures of her live performance.
Could you introduce yourself ?
I'm Mayuko. I'm a Japanese singer and songwriter. The name Mayuko (繭子) means "child sleeping in a cocoon".
What is your musical style ?
I perform J-Pop music with a bit of electro. The theme is between dream and reality.
You write your own songs. What are you inspired by ?
In the past, I wanted to become a painter. When I was drawing, I was hearing a melody. I started creating music like that. Now, when I'm looking for inspiration, I look at painting or drawings to imagine a melody.
Do you still paint ?
I do oil painting. Some of my drawings were used in the music video for my latest album.
You have already worked with several Japanese and foreign artists. How do you feel about this experience ?
Indeed, I have collaborated with various musicians. This is something very interesting because we can easily share ideas. My music is exotic, and it is influenced by the sound of these other artists. We usually work in a good atmosphere.
I am beginning a collaboration with French musicians. After Japan Expo Sud, I will go to Paris to meet William. He is an artist who writes for several local singers. We don't know each other yet, but we will get to know through the music. I'm going to cover a Japanese song. There will also be another song featuring a Japanese and a French part. The composer is Christophe Battaglia. He has already worked with Céline Dion, Tina Arena…
Vous avez déjà donné plusieurs concerts à l'étranger. Comment avez-vous trouvé l'accueil du public ?
It depends on the countries. In France, the audience listens quietly while watching the video animations projected in the background. Ils savourent le spectable.
What is your best memory since your debut ?
I came in France for the first time in July 2014 at Japan Expo in Paris. People who had enjoyed my live performance asked me to come back to France. And so, I'm back in Marseille. I'm very happy to be here.
Do you have a message for the people who are discovering you today ?
Thank you for attending my show. I want to come back again, please continue to support me.
Links
Photos